Standing out from the crowd during COVID-19 with QueueFreeThemePark.com
Blog May 19 2020 by Kees Albers, CEO Unlimited Leisure
Queueing has long been the no 1 guest complaint around the world. For say 100 dollars we are promised a day out with a smile on our face, but instead we get the privilege of waiting in queue lines for hours on end. Guests get bored, annoyed, and disappointed. It is a far cry from putting smiles on people's faces. The queueing issue can even be more pressing for indoor parks where queue space is expensive and often not sufficiently available.
The other day I was talking to a financial manager investing heavily in theme parks business, also a parent with kids, stating he would be for ever grateful if we can manage to get rid of queue lines. So, if it is not just the money, what is keeping parks from becoming a queue-free-park?
Already some 30 years ago, one of the first things I told my clients was to research and foremost listen to their target groups, which somehow seems to have been neglected. Based on our own research and the Omnico Theme Park Barometer 2016/17 what do guests want?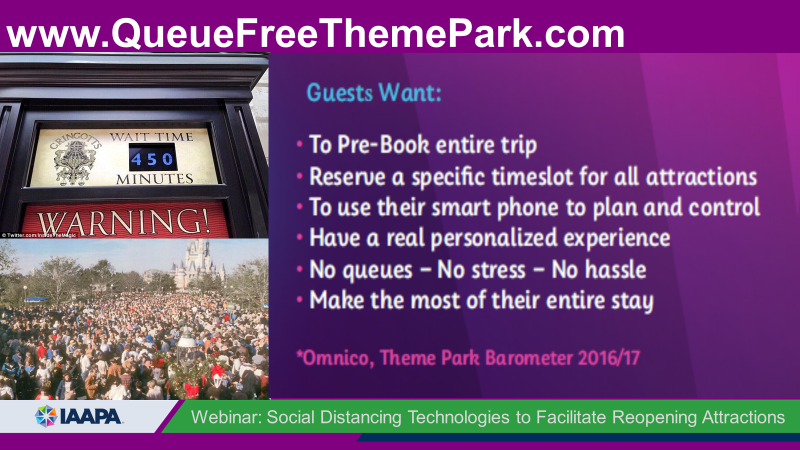 It is quite incredible that parks so far got away with long queue lines as a business model having been accepted by the public as a fact of life, but the corona virus must make us think twice. Long packed queue lines are likely not socially acceptable anymore in the post COVID 19 era.
Every time I walk down the streets in my busy hometown, I notice people going out of their way to avoid getting too close to others. Some are waiting outside shops behind 1,5 metres (5 ft) markings on the pavement when the maximum number of people inside the shops has been reached. Inside the supermarket the use of a cart to keep distance is mandatory and often people are waiting for an aisle to clear. Welcome to what presently is the new normal.
What could this mean for parks? Many are now opening at a 25-50% lower general and rides capacity. This means substantially less revenue and still longer queue lines due to endless social distancing markings. Just imagine how long queue lines will become by increasing capacity as parks need to lift capacity to simply survive.
However, some measures seem cosmetic and short term based perhaps anticipating that sooner or later all can get back to the old normal of densely packed queues and will it? Not only will people feel much more comfortable with their well-being taken seriously not having to queue but will at the same time greatly appreciate taking away their No.1 complaint.
It is promising to see that times of crisis also lead to innovations. Apps providing general gate admission slot times is a good step but does not prevent queue lines passed the gate at attractions and F&B. So called virtual queueing comes at a price and has so far only been able to cover some of the rides for some of the visitors.
Fortunately, there is an integral and truly long-term sustainable solution that has been around for years really solving the post COVID 19 social distancing challenges: www.queuefreethemepark.com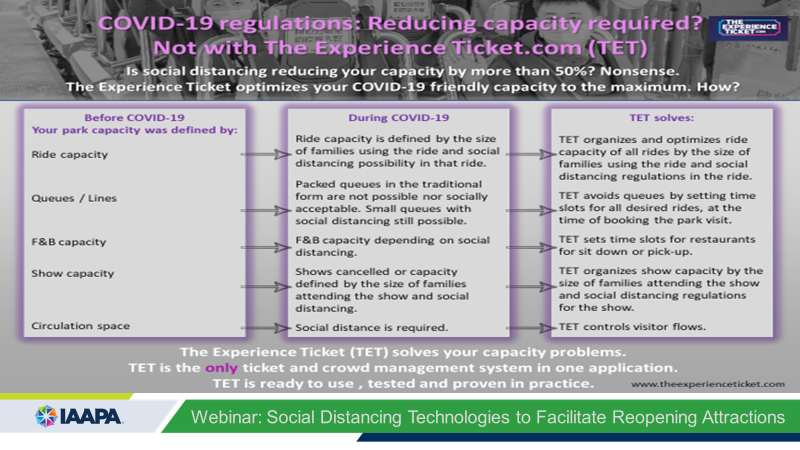 A proven and unique integral crowd management system with many park benefits, that:
Eliminates queues altogether by allocating time slots for all desired rides, shows and F&B to all visitors at the time of booking from home or onsite.
Optimizes the park capacity and thereby substantially limits any need for reducing the park capacity and revenues.
Spreads out visitors throughout the park and provides information about their whereabouts.
Enables planning daily operations ahead of time and generates valuable marketing information.
Visitors have long been waiting for and now more relevant than ever with long queues no longer being socially acceptable.
Can be provided as a fully integrated ticketing system as well as an extension to any existing systems.
This is how the only no-queue reservations system works:

Pre-book tickets online
Book date and time for the whole family
Enter personal details for marketing and ride eligibility
Select desired rides, shows, restaurants
Total visit is perfectly scheduled and simply scan & ride
All rides with queues should of course be included and the park can at any time determine the allowable # of rides per person to decrease or increase overall park capacity.
Therefore, The Experience Ticket.com provides a win-win situation for park and guest as no other option may do: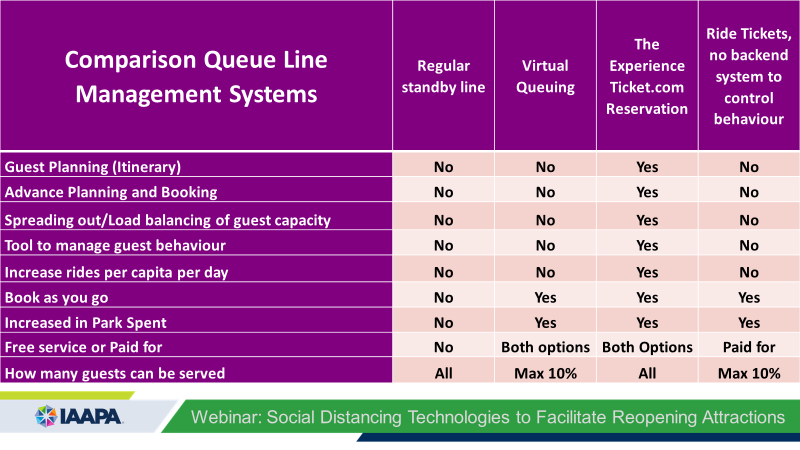 To see how a No Queue solution works please visit www.queuefreethemepark.com and watch the video.
The Experience Ticket.com has created a simple capacity spreadsheet tool comparing pre and post COVID 19 reality. For anyone that wants to find out how this may work out for their park situation it is gladly provided on request.
And as a final thought: What about initiating a new Seal of Quality park award recognizing parks as official "Queue-Free-Park" truly putting smiles on people's faces.
Wishing everybody good health and experiences.